Net Interprovincial Migration - BC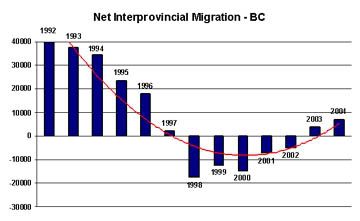 Source: BC Stats
The Alberta government has got to be wondering what's going on across the Rockies in BC these days.
By the end of the 1990s, Albertan employers had gotten pretty used to a steady supply of young, skilled workers fleeing this province for the fertile job market and low taxes of Alberta. By 2001, fully 1/3 of those leaving BC for Alberta were just 15 to 29 years of age – forced out of their home province by the fear of not being to build a future for themselves and their families.
If you've spoken to parents of those who left in those dark days about the pain of not being to help their grandchildren grow up, you know that the loss of BCers to other provinces is much more than simply a huge economic problem. By the end of the 1990s, growing numbers of families were separated. And those parents were pretty sure that once their children left our province, they might very well never return, especially if they put down roots and began having children in other places.
As we all well know, it is tough enough to build a village to raise a child without the added challenge posed when grandparents and other family support systems live 1500 kilometres away.
By losing young people just starting out in their careers, as well as those in their peak earning years, BC was exporting its future at a rapidly increasing rate during the 1990s.
From 1996 to 2001, we pushed away over 175,000 people with our high taxes, mis-informed economic policies and crippling regulation for small business – businesses that today have the highest optimism in the country.
That optimism is sure reflected in the net migration numbers now. The most recent BC Stats report shows the net inter-provincial migration rate is back up out of the negative numbers – in fact, it is now the highest since 1996.
Surprising to many, perhaps, are the stats showing that the low taxes and the growing economy here at home have even provided a net gain of migrants from that economic Mecca - Alberta.
Everyone who reads a newspaper or watches the news knows that our economy has finally turned around. But it is by speaking to families around BC that one realizes that something fundamental has shifted.
Parents no longer fear that their children will leave the province to find work elsewhere, and only return for Christmas holidays and summer road trips.
Some of our young people who already left might come back home, and build their futures right here.
And, most importantly, these changes mean that those lonely grandparents may finally get to be a real and important influence in the lives of their beautiful grandchildren.